Offers of the department
Organisation of alumni meetings
You would like to visit the department together with fellow students from your year? We would be happy to support you in organising alumni meetings at the department.
Please contact us.
Subscribe to our newsletter
The department's newsletter informs you three to four times a year about upcoming events, projects and special occasions.
Subscribe
Follow us on LinkedIn
The department also maintains a page on LinkedIn on which information is provided about activities at the department.
Follow us on Instagram
@fb15architecture
Contact
Contact persons for alumni are Tanja Griessmann and Frank Metzger.
You can reach us by email: alumni@architektur.tu-…
40! Jahre Studienbeginn an der TUD
Jahrgangstreffen 1978/79
Am 20. Oktober 2018 findet am Fachbereich ein Treffen des Studienjahrgangs 1978/79 statt.
Vorläufiges Programm:
Mittag/Nachmittag: Treffen in der Kuhle und Vortrag Prof. Anett-Maud Joppien (angefragt):
"Was ist der Stand der Dinge am FB 15?"
Besichtigung des Campus: Was hat sich getan in den letzten 40 Jahren?
Am Abend: Kleines 78'er Fest mit Musik, Essen, Tanz, Unterhaltung, etc.
Bitte bei Interesse nur unter dieser Mailadresse antworten: studi-40-TUD@gmx.de.
Sie erhalten dann Informationen zur Anmeldung, zum Programm und den Kosten.
Grüße
Bettinas Dirks-Schmunk und das gesamte Orga-Team
Zurück zum Beton – 2016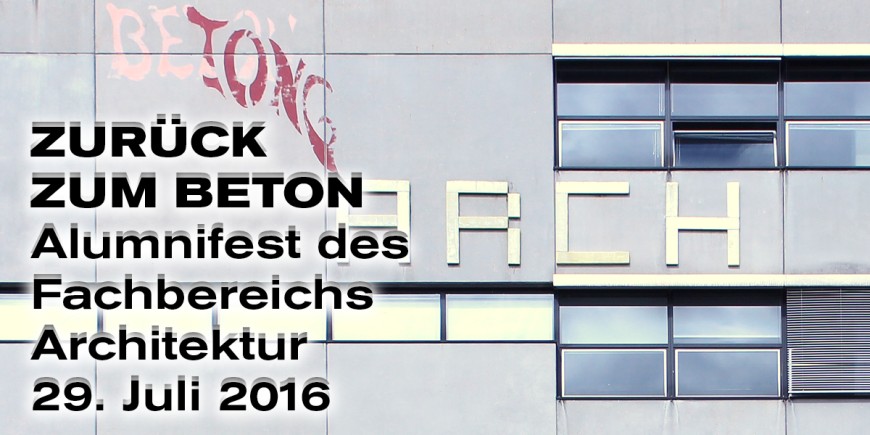 Zurück zum Beton
Das Alumnifest des Fachbereichs Architektur
Dem Fachbereich steht Großes bevor. Die Planungen für die Sanierung des Fachbereichsgebäudes und den vorübergehenden Auszug nehmen immer konkretere Formen an.
Aus die Anlass hat der Fachbereich alle ehemaligen Studierenden, Lehrenden, Mitarbeiterinnen und Mitarbeiter am Freitag, 29. Juli 2016, ab 19:00 Uhr zu einem Fest am Fachbereich eingeladen, um gemeinsam mit Ihnen einen Blick in die Vergangenheit, Gegenwart und Zukunft des Fachbereichs zu werfen.
Neben Speisen und Getränken erwartetete die Gäste ein umfangreiches Programm, wie z.B. die Ausstellung der Master- und Diplomarbeiten des Sommersemesters 2016, die an diesem Abend eröffnet wurde.
Das Programm:
Begrüßung durch Dekan Prof. Ariel Auslender
Vortrag von Prof. Dr. Durth und Dipl.-Ing. Udo Gleim
"Die Geschichte des Fachbereichs Architektur und seines Hauses auf der Lichtwiese"
im Max-Guther-Hörsaal (Großer Hörsaal)
Ausstellung der Master- und Diplomarbeiten des Sommersemesters 2016
Ein Jahrbuch für den Fachbereich Architektur
Präsentation in der Galerie des Fachgebiets Bildnerisches Gestalten mit 150 signierten Linolschnitte von Prof. Katharina Immekus, auf denen das Architektur-Gebäude dargestellt ist.
Einführung durch Prof. Elli Mosayebi und Prof. Katharina Immekus
Mit dem Erwerb einer Grafik unterstützen Sie das zukünftige Jahrbuch des Fachbereichs 15.
Ausstellung "The Exes"auf dem Experimentierfeld
Offene Fachgebiete
Das Alumnifest wurde unterstützt von den Freunden und Fördern des Fachbereichs .
I love DA
2. Alumni-Ausstellung des Fachbereichs
02.08. bis 30.09.2011
Im Rahmen des Architektursommers Rhein-Main 2011 präsentierte I LOVE DA ausgewählte Alumni der Diplomjahrgänge 1965 bis 2008 mit jeweils einem herausragenden Projekt in Darmstadt. Viele der in Darmstadt tätigen Architekt*innen kamen einst wegen Ihres Architekturstudiums in die Stadt. Anschließend wurden sie sesshaft und prägen mittlerweile das Stadtbild mit ihren eigenen Bauten.
Die Ausstellung fand im Foyer des karo5 am Karolinenplatz 5, 64289 Darmstadt, statt.

Flyer als Pdf (opens in new tab)
The Alumni Network of the TU Darmstadt
Association of Alumni and Friends of the Faculty of Architecture at the Technische Universität Darmstadt e.V.
From 1989 to 2021, the association offered the opportunity to support the Department of Architecture together with like-minded people, not only ideally but also financially. The Association of Friends and Alumni was committed to the department and offered the opportunity for networking. The association was dissolved in November 2021.