Urban and Regional Planning for Sustainable Development Goals Achievement
International Lecture Series 2022: Series #03 Urban Heritage Preservation
10.05.2022
Gastprof. Dr. Nebojša Čamprag from TU Darmstadt will give an invited lecture titled "Urban heritage in transformation– sustainable urban development or commodification of culture" in the frames of the International Lecture Series, organised by the Department of Urban and Regional Planning of the Faculty of Engineering, University of Diponegoro (UNDIP) from Semarang, Indonesia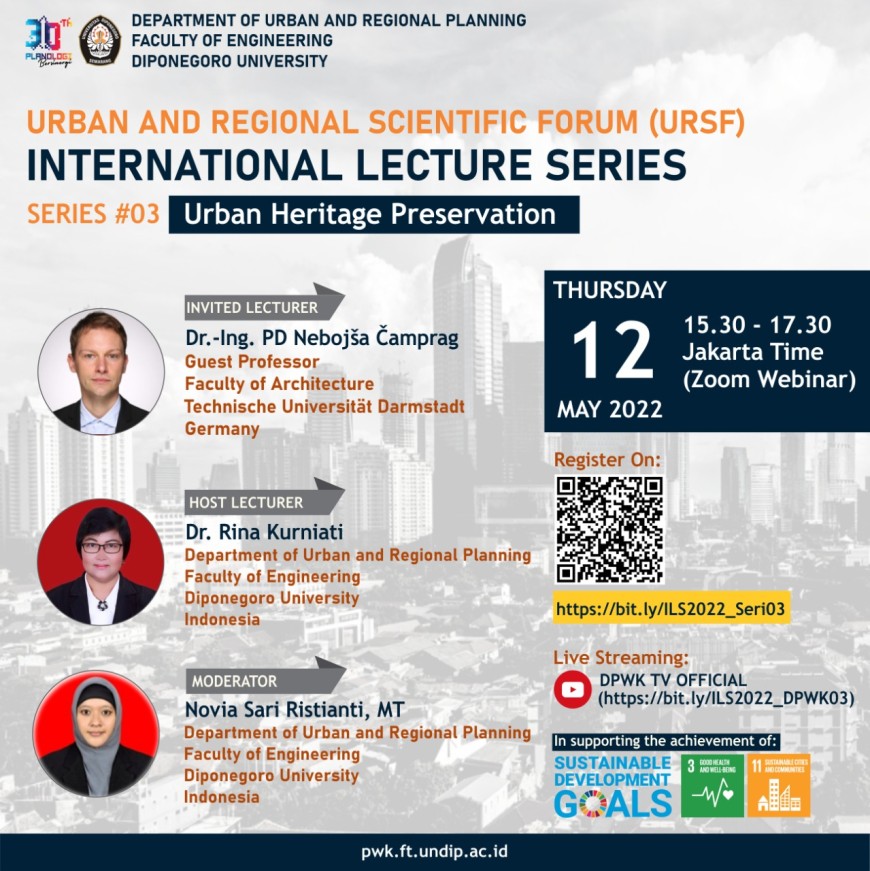 In order to promote international academic exchange, the Department of Urban and Regional Planning of the Faculty of Engineering, University of Diponegoro (UNDIP) from Semarang, Indonesia, organises each year the "International Lecture Series" program which raises the important topics regarding the achievement of the Urban and Regional Planning for Sustainable Development Goals (SDGs).
Gastprof. Dr. Nebojša Čamprag will give a lecture titled "Urban heritage in transformation– sustainable urban development or commodification of culture" in the frames of the International Lecture Series, with the overall topic of Urban Heritage Preservation on Thursday, March 12th.
Lecture abstract:
During the last few decades we have witnessed comprehensive socio-political, economic and technological changes that imposed reformulation of common values, but also significant transformation of our cities. In such economy-driven transformative process, cultural production and cultural consumption often took over the crucial role. This imposed cultural heritage to gain on importance in urban development strategies, but at the same compromised its intrinsic meanings for the purpose of political or economic gains. This lecture will analyze different cities from diverse European and global contexts to illustrate the potentials of relying on cultural heritage in urban development strategies, but also its highly contested nature that can jeopardize sustainable urban transformation.
Invited Lecturer
Dr.-Ing. PD Nebojša Čamprag – International Urbanism, Faculty of Architecture, Technische Universität Darmstadt, Germany
Host Lecturer
Dr. Rina Kurniati – Department of Urban and Regional Planning, Diponegoro University
Moderator
Novia Sari Ristianti, MT – Department of Urban and Regional Planning, Diponegoro University
Thursday, 12th May 2022
15.30 – 17.30 Jakarta Time
10.30 – 12.30 CET
The lecture can be followed live over a YouTube link.